How to play ?
How to play ?
For the Drama is an application that allows you to play a role-playing game on the go, without preparation for you and up to 5 other players.
Choose from the games available, select the pacing of the game and play immediately: you do not need to know the rules or to explain them before you start!

Your story is built by answering Questions in turn. Tell stories of love, revenge, honour, doubt, competition, etc.
What are these games?
For the Drama offers you to play free role-playing games inspired by the game For The Queen (see legal mentions), a game created by Alex Roberts and published by Evil Hat Productions.

See the list of available games.
To learn more about the game For The Queen:
Podcasts
Here are some recordings to give you an idea of what these games look like :
Positioning
These games are playable from 1 to 6 players (and even more!)
To play, you need:
a computer or smartphone to use this application
from 1 hour to 3 hours depending on the duration set at the beginning of the game
or download and print a game, then cut out the cards
Before starting a game, agree on a speaking order that will not change during the game.
For the DramaFor the Drama offers a system of game code to allow several players to join together on the same game: the cards are then shared and their printing synchronized on all screens.
Duration of a part
After having chosen a game, the application suggests you to choose the desired duration: the Final Card meaning the end of the game is then placed after 10, 20 or 30 cards.
The duration of a game varies according to...
... the location of the Final Card is placed in the Questions package
... how players develop their answers to the Questions.
... the number of questions that players ask each other
Game screen
Here is how the game screen on this site looks like: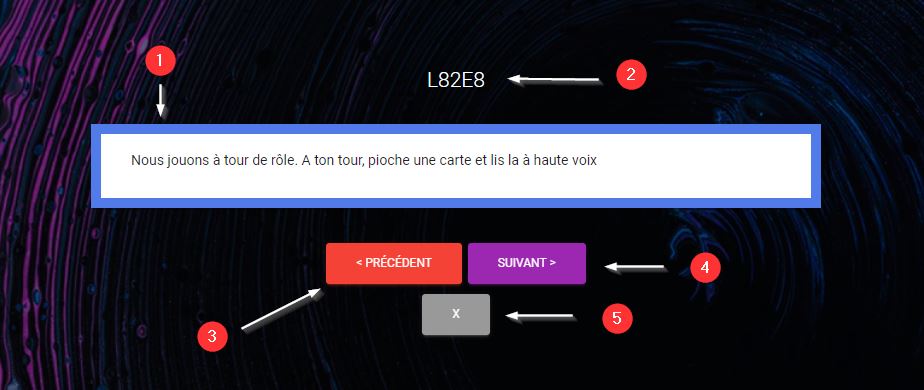 Legend:
1: the card currently in play. Its edge is blue for an Instruction Card, purple for a Question and red for the Final Card
2: the code of the game you need to share so that other players can join you
3: return to the previously played card
4: draw the following card
5: use card X. Its role is explained by the Instructions Cards at the beginning of the game
Change log
You can follow the evolutions of the platform from the page dedicated to the monitoring of modifications
Have fun !
The available games are presented on this page. If you have any questions about using the platform, if you want to contribute by creating a game or improve the site by reporting an error, you can contact us: