Doing the job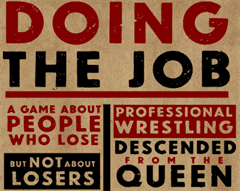 Doing the job
After 35 years in the business, The Queen of Pain Latisha Chains is hanging up the boots and retiring from professional wrestling. In her honor, Runnels County Wrestling has assembled a special 16-person invitational tournament to crown... THE QUEEN'S CUP CHAMPION.
You have all been booked to participate in this prestigious tournament. You have NOT been booked to WIN this tournament. This is a story about people who lose. This is NOT a story about losers.
Doing The Job is a Descended From The Queen game about a group of wrestlers booked to lose a prestigious tournament. Players will take turns answering questions about their experiences in the tournament, their feelings towards the other wrestlers, and how they view the person destined to win the Queen's Cup at the end of the night.
When all is said and done, it's up to you to decide: was the pain of losing (and the pain you put your body through) worth the experience of being here?
Auteur :
Jeff Stormer
URL :
https://jeffstormer.itch.io/
Play
Download PDF
Available games