For our beloved leader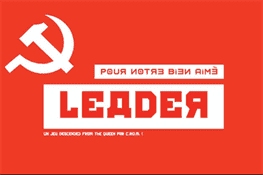 For our beloved leader
Comrade, you had the distinct honour of being chosen by our beloved Leader to accompany him to a diplomatic summit of unprecedented proportions with our capitalist enemy.
On this interview depends the future of the whole world.
Of course, what matters most to you is the future of the Revolution, the Party and our beloved Leader.
Of course...Long live the Revolution! Long live the Party! Long live our beloved Leader!
A game created by the C.R.O.M.
Play
Download PDF
Available games